About M & L McLean Cleaning Service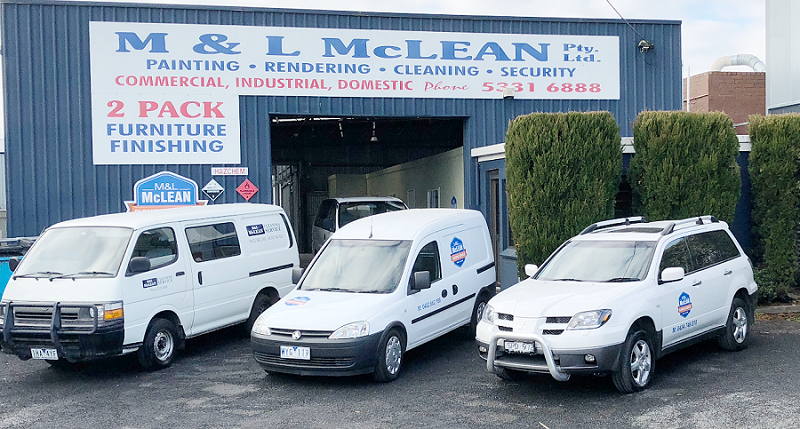 M & L McLean Cleaning Services Pty Ltd has been cleaning the Ballarat and Greater Western Region for over 38 years. M & L McLean Cleaning Services Pty Ltd was established in 1980 by Malcolm McLean. Malcolm built the business from the ground up with the help of his wife Leselie and their three children. Over the years the McLean family have built a highly sort after, reputable business, based on integrity and quality of service.
After a wonderful internship under the tutelage of their father, Malcolm and Leselie's three children branched off to run successful businesses of their own.
Stephen McLean owned and successfully operated McLeaning Pty Ltd for 23 years, building a large and loyal client database. In December 2016 Stephen merged his successful business with M & L McLean Cleaning Services and is now working as General Manager. M & L McLean Cleaning Service is in another growth phase due to the consolidation of the two businesses and the continual reputation for the business being able to deliver what we promise.
Stephen McLean has decades of diverse experience in the cleaning industry. This experience spans across managerial and 'hands on' involvement with contract work for large medical centres, government agencies, department stores, industrial companies, schools, universities, ICT call centres and domestic clients.
The McLean family are long standing members of the Ballarat and regional Victorian community, shown by a strong trading history which has resulted in a great reputation within Ballarat and surrounding areas.
M & L McLean Cleaning Service support many sporting organisations, community fundraisers, and local shows. We also donate cleaning and other services to local churches and charities.
We strongly value our participation in our local community.
M & L McLean Cleaning Services Pty Ltd are a commercial and domestic cleaning company based in the Ballarat. Our primary aim is to deliver quality cleaning services, compliant to National standards in regional Victorian communities.
M & L McLean Cleaning Services Pty Ltd demonstrates a commitment to high standards, staff training, strong cleaning and hygiene practices, professionalism, vast experience and client satisfaction. As a regional company M & L McLean Cleaning Services Pty Ltd understands the distinct nuances of delivering quality cleaning services in regional communities within a national environment.